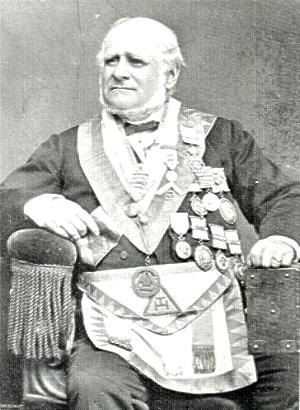 ---
Perhaps the most prolific Freemason that has ever been a Member of the Lodge was Henry Muggeridge, not only for his supreme dedication to the Lodge, but also for his work with the Stability Lodge of Instruction as well as his support for the many Masonic Charities.
On October 3rd, 1839, " Bro. Thompson, PM., proposed Mr Henry Muggeridge to be initiated, which was unanimous," and on the 7th of the following month he initiated initiated him. On 2nd January 1845 he also installed him as WM.
Bro Muggeridge's first 'work' that was noted in the minutes was on 2nd February 1843, when he assisted the WM in giving a lecture on the 'Lodge Board' and in 1852 was invested as 'Master of the Ceremonies'
He was appointed to the office of Secretary on 6th February 1862 and so efficiently did he fill that important post that just five years later the Lodge passed a unanimous vote of 10 Guineas as a small acknowledgement thereof. On 14th November of the same year he regrettably resigned due to his numberous other Masonic engagements.
Following his resignation from the Lodge after 40 years of service in 1879, it was proposed by Bro Kenning, seconded, and unanimously carried: " That Bro Muggeridge be forthwith elected an Honorary Member of the Lodge".
Before documenting his involvement with the 'Stability Lodge of Instruction', a brief history of this important institution is necessary.
For the 62 years preceeding the Union in 1813, both Grand Lodges, 'Antients' and 'Moderns' had a contemporaneous existence in England. Having effected the Union it was found that there were many dissimilarities in the working of the ritual in the three degrees as practiced in the private Lodges under both Grand Bodies, and to remedy this the 'Lodge of Reconciliation was constituted by the two Grand Masters for the sole and express purpose of settling a uniform working for initiation, passing and raising. The Lodge of Reconciliation held its first meeting on 7th December 1813 and its last meeting on 3rd May 1816 having formulated the 'definitive' working. The Stability Lodge of Instruction was founded in 1817 as a direct continuation of the Lodge of reconciliation. Of its seventeen Founders, Bro James McCann (member of Lion & Lamb) was a member of the Lodge of Reconciliation, and Bro Peter Thompson (also member of Lion & Lamb) a pupil.The first two Preceptors were Bro Philip Broadfoot and Bro Peter Thompson. The working was practiced and taught by these two founders until the retirement of Bro Broadfoot in 1835 and then by Bro Thompson alone until his death in 1851 - a period of 34 years.
Bro Henry Muggeridge succeeded Bro Peter Thompson following his death having joined the Lodge in 1839, some 12 years previously and reined supreme as its third Preceptor until his retirement in 1855, a period of 34 years in total. For a period of 63 years therefore, the working of the ritual was led by two members of the Lion & Lamb Lodge. It is because of this background that we are regarded as one of the best ritual Lodges in London.
He was held in high esteem by all his pupils and masonic aquaintances. He was presented with a silver teapot by the members of the Stability Lodge of Instruction accompanied by a handsome illuminated testimonial in April 1863. Likewise on the celebration of the Jubilee of the Lodge in 1867 Bro Muggeridge was recipient of £150 and a silver snuff box in honour of that occasion. The snuff box now resides in the museum at Freemasons Hall, Gt Queen Street. Eleven years later, in 1877, he was entertained at a banquet by a number of his admirers, who desires their respected Preceptor to accept an address, purse and contents. The artistic testimonial on vellum and the handsome purse were provided at Bro Kenning's sole expense; the latter being well filled as an affectionate offering from several Lodges and Chapters, and many scores of brethren who had long valued his extraordinary zeal and abilities. The Address was to the following effect:
"This address, with a purse containing Three Hundred Sovereigns was presented to Bro Henry Muggeridge, PM., PZ.,&c., at a dinner held in his honour at the Guildhall Tavern, Gresham Street, on Wednesday, the 15th May, 1878, by a large number of the Fraternity, as a token of their esteem and regard for his great services to Freemasonry as a Preceptor, and in testimony of their high appreciation of his great zeal and ability on behalf of Masonic Charity and Freemasonry in general"
On retiring from active Masonic work, some of the particularly attached brethren were not content with the foregoing, but determined on still another gift, which was made on 24th July 1885. The testimonials consisted of an address appropriately framed (again kindly provided by Bro HKenning), and a purse of money. The Illumination thus aptly expressed the object of the donors:
" To Bro. Henry Muggeridge,
A few of your old pupils and friends request your acceptance of the testimonial herewith, and desire to express to you the respect and esteem they will ever retain for their old preceptor, who presided for so many years at the Stability Lodge of Instruction. In your retirement from Masonry may T.G.A.O.T.U. give you peace and happiness"
Some idea of the extent of Bro Muggeridge's activity may be formed by mentioning the Lodges he consecrated, whose masters he installed, and his never ceasing advocacy of the cause of Masonic Charity as Steward for six times and Vice-Patron of the three Charitable Masonic Institutions. He consecrated Lodges 765, 813, 862, 871, 879, 890, 1056, 1076, 1158, 1178, 1261, 1320, 1382, 1668, 1704, and others in the Metropolitan District. Also 829, Sidcup; 1050, Rochester; 1063, Belvedere; 1206, Sandwich; 1208, Dover; 1209, Ramsgate; 998, Welshpool; 1295, Swindon; and 1470, Dunstable.
On May 19th, 1877 he was placed in the chair of the "Henry Muggeridge" Lodge (so named in his honour), as the first Master.
His efforts in the Royal Arch were no less prolific. He was exalted in the Jerusalem Chapter, No 218, now 185, on 10th October 1843. He consecrated several chapters in the Metropolis and in the Provinces, including the 'Lion and Lamb' Chapter on 1st November 1871. He had the honour of installing no less than three Grand Superintendants, those of Cheshire, Hertfordshire, and East Lancashire.
He was a member of the 'Union Waterloo' Chapter, No 13; St James' Chapter, No 2; and Mount Zion Chapter, No 22. He was appointed Grand Standard Bearer of the Grand Chapter by the Earl of Zetland in 1868.
He was presented with an Illuminated and framed address along with a handsome clock in 1877 by the Members of the Lion and Lamb Chapter in recognition of his many services.